msfeedicon is now released at version 2.0 and is a major update to the previous versions.
msfeedicon is a plugin to the Windows RSS platform and Internet Explorer 7 Feeds and appears as an icon in the Windows XP/Vista system tray and displays when you have unread posts in your subscribed feeds. Whenever there is new posts in a feed msfeedicon will show an alert window with direct access to unread posts. No more need to have the Feeds Favorites Center visible in Internet Explorer nor Internet Explorer open to see when your feeds are updated.
Features
Runs at startup (customizable*)
Icon in the system tray displaying if there are unread posts or not
Alert windows (customizable*) for new posts with direct access to the feed
Notification of new versions of msfeedicon
Free
Feed statistics
Mark posts unread automatically* (customizable)

Internet Explorer 7 only marks feeds as read when you close the tab with the feed or you navigate away from the feed

Enable or disable the automatic feed sync
Icon in system tray indicates if the feed sync is downloading or is enabled/disabled 
Install and uninstall program
Force an update of all feeds
Customizable*
…
* is new in version 2
Requirements
Requirements are checked during installation.
Windows XP Service Pack 2 or Windows Vista
Microsoft.NET 2.0 Framework
Internet Explorer 7
Download
The download is available at:
Screenshots

Icon in system tray

Alert window when a feed is updated

Menu of msfeedicon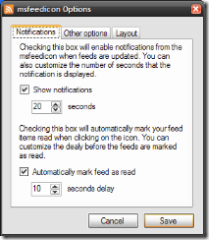 Settings dialog
If you have any problems or comments please inform me by commenting on this post or sending me an email.