This fall is going to be pretty busy in terms of conferences and presentations and I'll have my fair share. Here's what I've planned for this fall, so far.
Webinar: No Farm Solution in sight!
On Tuesday the 6th of September I will do a webinar discussing SharePoint Online and Office 365 and how you can build solutions using SharePoint Online, Silverlight, Windows Azure and more without creating any farm solutions:
When and where: 6th of September at 11:00 CET. The interwebz
Register online at http://www.sharepointeurope.com/upcoming-webinars/webinar-week-no-farm-solutions-in-sight.aspx
SharePoint in the cloud!? Does it work?
This is a breakfast seminar that my company Connecta is arranging with Cornerstone where I will present Office 365 and SharePoint Online specifically. I will show you how SharePoint Online works and what you need to do to get it to work, and I will also share our experiences moving from an on-premise solution with SharePoint and Exchange to the Office 365 platform.
When and where: 16th of September at 8:00 or 13:00. Stockholm at the Connecta office
More information at http://cornerstone.se/sv/Event/Frukostseminarium-SharePoint-i-molnet-Funkar-det/
European SharePoint Conference, Berlin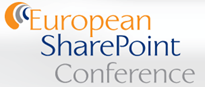 For the European SharePoint Conference I will have two sessions, which I already written about.
When and where: 17th - 20th October. Berlin, Germany
More information: http://www.sharepointeurope.com/
SharePoint Conference Southeast Asia, Singapore

For the second year I will go down to the beautiful Singapore for the SharePoint Conference in Southeast Asia. This year I will also have two sessions.
Mastering customizations of the SharePoint 2010 Ribbon Menu
Enhancing Office 365/SharePoint Online using Windows Azure
I'm sure that the conference will be as great as last year!
When and where: 8-9 November. Singapore.
More information here: http://www.sharepointconference.asia/
SharePoint and Exchange Forum 2011, Stockholm

The SharePoint and Exchange Forum is the SharePoint and Exchange conference in Scandinavia and of course if you're in the vicinity you should head on over to Stockholm. This year Göran Husman and the crew has managed to get a really good line of presenters - it will be a blast! I will present one session at this conference, and it will not be a development topic, but instead a session about Service Application Federation - the good, the bad and the ugly!
When and where: 14-15 November. Stockholm, Sweden
More information here: http://www.seforum.se/
I hope to see you on the road somewhere!