A big round of applause for Microsoft and the team behind Microsoft Teams for now being general available (GA) worldwide. Today, they lit up the Teams icon in the Office 365 waffle for all tenants (unless your admins are being boring and has turned it off).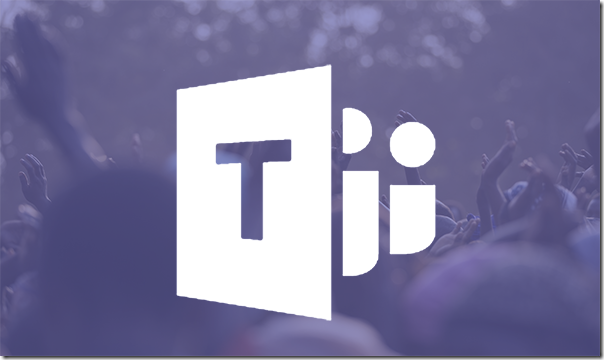 It's been awesome to be a part of this preview journey, which started last summer. Avanade was selected as one of the TAP members, in a preview program shrouded in a secrecy I've not seen at Microsoft before. Our IT department slowly trickled it out, so that we had a chance of learning how Microsoft Teams could fit into our organization and our way of working. A big thanks to David who have mastered the preview program internally.
When Microsoft Teams was unveiled to the public, back in November, we did our first point-of-view based on our experience so far. Since then I would say that the way we work has changed dramatically. Many of our teams and interest groups has quickly adopted this new chat-based workspace - not just for chatting but as the preferred channel for communication and collaboration. It fits our style of work perfectly, given how spread out our teams are and the different time zones we're working in.
Personally I've been way more effective in my work since we started to adopt Microsoft Teams. The number of unnecessary e-mails has gone done dramatically, my inbox is not flooded with simple questions, or links, or things that can more easily be expressed through a chat. One thing that has surprised me is how much more we use the ad-hoc chats compared to what I've expected, we don't all have to be online at the same time - you can easily go back and see what's been discussed while you were away or in a meeting. Sharing of files and notes is so much easier now and it allows us to have an ongoing discussion about them.
It's been a blast discussing Microsoft Teams with my clients. And I'm thrilled that some of them now are leading with "Teams first" - that is you create a Team, not a SharePoint team site, not an Office 365 Group. You get them for free with Teams anyways. This will change the way collaboration is done for enterprises going forward, without doing trade offs for compliance, governance and security.
This is the first release of many to come. And they number of features that has popped up over the last few months are incredible. And I'm sure we will see some more productivity enhancers going forward.
Once again, thank you to the team behind Microsoft Teams.