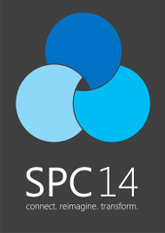 I'm really proud to announce that I will be speaking at the long anticipated SharePoint Conference 2014 in Las Vegas, March 3-6 2014. The SharePoint Conference hosted by Microsoft is returning to Las Vegas, but this time located at the Venetian, bigger and perhaps more interesting than in a long time. If you are in the SharePoint business as a developer, IT-Pro, architect, business analyst, power user or executive, then this is the conference where you would like to be next year.
For the first time I will be speaking at this conference, which I'm really excited and a bit nervous about. I will present two sessions of which I'm really passionate about:
SPC383: Mastering Office Web Apps 2013 deployment and operations
Tuesday 4/3 9:00-10:15 @ Lido 3001-3103
Microsoft Office Web Apps 2013 is a crucial part of any SharePoint, Exchange and Lync on-premises deployment. In this session we will dive into the details of planning, deploying and operating your Office Web Apps server farm. Through a great number of demos we will create a new farm from scratch, make it highly available and then connect it to SharePoint and Exchange. We will cover aspects such as scale considerations, patching with minimum downtime and security decisions you have to take as a Office Web Apps farm admin.
SPC334: Real-world SharePoint architecture decisions
Wednesday 5/3 13:45-15:00 @ Lido 3001-3103
Being a SharePoint architect can be challenging - you need to deal with everything from hardware, resources, requirements, business continuity management, a budget and of course customers. You, the architect, have to manage all this and in the end deliver a good architecture that satisfies all the needs of your customer. Along the line you have to make decisions based on experience, facts and sometimes the gut feeling. In this session we will cover some of the architectural changes in the SharePoint 2013 architecture, some of the new guidance from Microsoft and provide insight into a number of successful real-world scenarios. You will see what decisions were made while designing and implementing these projects with emphasis on why they were made.
SPC356: Designing, deploying, and managing Workflow Manager farms
Wednesday 5/3 10:45-12:00 @ Lido 3001-3103
Workflow Manager is a new product that provides support for SharePoint 2013 workflows. This session will look at the architecture and design considerations that are required for deploying a Workflow Manager farm. We will also examine the business continuity management options to provide high availability and disaster recovery scenarios. If you want a deep dive on how Workflow Manager works, then this is the session for you.
I very glad to be doing this Workflow session since it will be co-presented with my buddy, the almighty MCA/MCM/MCSM/MCx Spencer Harbar!
I'm really looking forward to seeing you there, in my sessions, in the other interesting sessions, in the casinos and … I'll better stop there – what happens in Vegas stays in Vegas…
[Updated 2014-02-19] Added rooms and time slots as well as the SPC356 session.