Microsoft has released version 1.0 of the XML Paper Specification Essentials Pack. The pack is available for Windows Vista or Windows XP and Windows 2003 Server (both 32 bit and 64 bit versions is available).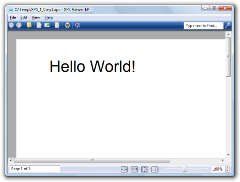 XPS Essentials Pack contains
An XPS viewer called XPS Viewer EP - for reading XPS files
An XPS Document writer - for printing to an XPS file
Filters for previewing (IPreview) and searching (IFilter) XPS files
Windows Shell handlers, for Windows Explorer integration and thumbnails
Note: On Windows Vista Internet Explorer will still be the default viewer for XPS files. Just right click any XPS file and choose Open With and then Choose Default Program. In the dialog choose the XPS viewer you want to use as default.