In this first post of the Office 365 Groups for Admins series I will show you where you have the different entry points for the Unified Groups.
It's important to understand this as it is important in the posts to follow.
Office 365 Mail (end users)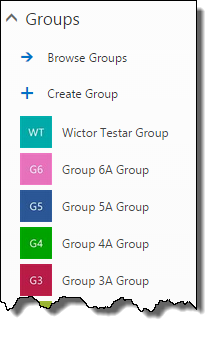 The first and perhaps the most obvious point of Office 365 Groups is in the Office 365 Mail application (Outlook Web App, OWA). On the left hand side you will see the Groups heading. Under that heading 10 of the Groups you are member of are shown, with your Favorites on top.
Clicking on Browse Groups will take you to a public listing of all available Groups within your tenant.
Clicking on Create Group will allow anyone within your organization to create a new Group.
Clicking a Group here navigates you to the discussion view of the Group.
Office 365 Calendar (end users)
From the Calendar view of OWA you will see the your Groups (up to 10) and you can add their calendars as overlay. Clicking on a Group here navigates you to the Groups Calendar view.
OneDrive for Business (end users)
In OneDrive for Business you will also see the Groups heading and a similar view as above. You only see five Groups here, you can click on More to see more.
Outlook 2016 (end users)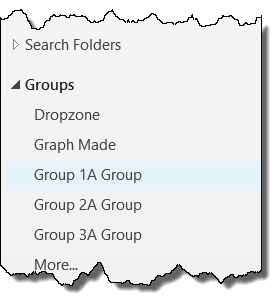 One of the best pieces with Groups is that in Outlook 2016 you can directly access the Groups and interact with them.
Right clicking the Groups header allows you to create a Group.
If you have marked any Groups as favorites, they will also show up together with your favorites folders in Outlook.
Global Address List (end users)
By default all of the Office 365 Groups will be visible in the Global Address List.
Office 365 Admin Portal (admins)
Office 365 Admins can see some Group information in the Admin portal, located under the Groups heading (at the moment, consider this as your last resort :)
Some of the Unified Group configuration piggybacks on the Exchange Group settings, so you find some settings in the Exchange Admin Center as well.
PowerShell (admins)
Of course, PowerShell is where you can work with Groups.
Office 365 Unified API (developers, admins)
There's an API for that. Yes, we can do some really cool stuff with the new Office 365 Unified API's.
SharePoint Online (end users)
In SharePoint (and OneDrive) all your Groups will be available as groups when sharing sites, items or documents.
Summary
Office 365 Groups are everywhere in Office 365, and I think we can expect them to appear on even more places. For instance the Office Roadmap talks about Delve appearance of Groups…