Here comes yet another update to the msfeedicon utility, version 1.4.
The msfeedicon utility is a free notification icon for the Windows RSS platform, that comes with Internet Explorer 7. The utility will show whenever one of your feeds have been updated and gives you easy access to view the feed. All this so you do not have to waste space on your screen with the Internet Explorer 7 Feeds task pane or some Windows Vista Sidebar gadget.
Features of msfeedicon 1.4
An icon in the system tray showing if you have unread RSS or Atom feed items or not
The icon also shows when the feed synchronization is disabled and when it is downloading the feeds
Balloon tip when a feed is updated, with instant access to the updated feed
Starts when you log into Windows
Function so you can force an update of all your feeds, even if they are not scheduled for update
Checks for new versions of the msfeedicon utility
What's new in 1.4?
Statistics of your feed subscriptions
The ability to enable or disable the feed background synchronization
Installation program checks for Internet Explorer 7
Some bugs are also eliminated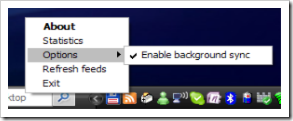 Requirements
The msfeedicon utility requires Microsoft.NET 2.0 or higher, Microsoft Internet Explorer 7 and Windows XP or Windows Vista.
Where is the download?
You can download msfeedicon from these locations:
If you have time, please review the application on any of the sites above?