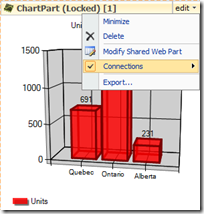 I'm glad to announce that I finally got my stuff together and stitched together the last pieces of the beta of ChartPart for SharePoint 2.0.  ChartPart for SharePoint is a SharePoint Web Part that allows you to draw charts from existing SharePoint lists. It's available at CodePlex, at http://chartpart.codeplex.com/, and is free for use.
ChartPart 1.0 have had over 4.000 downloads since it was released and is translated to six different languages. The first version was pretty limited in customization and you could only create some basic charts.
Version 2.0 has a number of new and interesting features
Installation in bin, instead GAC. This is to make the Web Part more reliable by enterprise customers

The Chart Controls is installed separately

More chart types

A set of new and improved Editor Parts that allows you to customize your Chart

Full control over the 3D graphs

Full control of legends position and layout

etc

A new LockDown mode, which allows you to lock down the design parts of the ChartPart so that an administrator can set colors and design and the allow users to use those predefined Web Parts without violating corporate branding etc

Connect the ChartPart to a list and use the list as a filter for the chart

Even more languages will be there when a stable version is released
It's a beta, and I have some issues still to fix and some features to implement, but head on over to download it if you would like to try it out, head on over to CodePlex and download the beta. Post any issues in the Discussions or Issue Tracker. If you would like to help out translating it just contact me.