After a few weeks of testing and great feedback, ChartPart for SharePoint 1.0 is available for download on CodePlex.
CharPart for SharePoint is a free chart web part for SharePoint (WSS 3.0 or MOSS 2007) that enables you to easily create charts based on existing lists and views in SharePoint.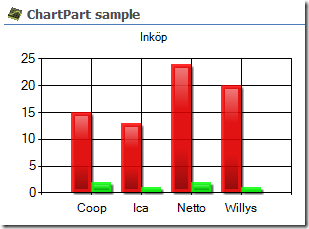 These are some of the features of ChartPart 1.0
Generate a graph from a SharePoint list in just a few clicks
Multiple graph types (bars, columns, splines etc)
Legend
Title
Multiple built-in palettes
Custom palettes
Size of graph
Supports columns such as dates, lookups, calculated, users etc
ChartPart is currently translated into English, Swedish and Portuguese and German coming soon. Please contact me if you would like to help out in translating it to other languages.
This was just the first version, I am currently doing some nice work with version 2 – expect a beta version pretty soon.
Why are you still reading and not downloading it!
Technorati tags: Chart, SharePoint, WSS, MOSS, WebPart, Web Part, CodePlex