Here we go again! The conferences are piling up one after another now when we have our new and shiny toy (=SharePoint 2013). For me personally this is an exciting time and gives me the opportunity to travel, meet old and new friends, to network and first and foremost learn more about SharePoint. A lot of us are currently experimenting with the beta bits, actively running some projects on it and just wondering how it will work when Microsoft finally will make the golden master. The conferences gives you the opportunity to hear about the latest news, learn about some features that you haven't got a chance to explore yet, learn from those who has been working with this new product for months and even years and also hear a different perspective of others experiences compared to yours.
I have three planned conferences for the next couple of months and a couple of user group meetings (where the interest has been tremendous!).
SharePoint and Exchange Forum 2012 – October 22-23, Stockholm

http://www.seforum.se
The first conference to kick off this season is the largest yearly SharePoint conference in Scandinavia – SharePoint and Exchange Forum. It's hosted by Office 365 MVP and my good friend Göran Husman, and he has been doing this conference since the dinosaurs walked the earth. Last year I thought the conference really had a fantastic bunch of speakers and this year it will be even better! I will do two sessions this year (but why do I always get my slots the day after the big party, Beatrice!!!).
Office Web Apps Server – all you need to know
This is a session where we dig into the new Office Web Apps Server (or WAC server) to see how it works, how it's configured etc. We'll discuss why Microsoft decided to make it into its own server product and how it can integrate with other servers (except SharePoint) such as Exchange.
SharePoint Apps – An introduction for developers
This developer session will be an introductory SharePoint 2013 Apps development session. We'll talk about why we would like to build Apps, the basic concepts and then of course build an app or two. My mate Eric Schupps will also do an App development session and we'll make sure that you will benefit from visiting both of our sessions.
SharePoint Conference 2012 – November 12-15, Las Vegas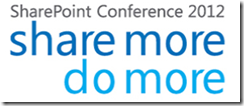 http://www.sharepointconference.com
The SharePoint Conference 2012 is by far the largest conference this year and it will be the "coming out party" for SharePoint 2013. Everyone will be there – vice presidents, product group members, MCA's, MCM's, MVP's…just everyone! Even though the Preview is out I expect to see some really cool stuff shown in the keynotes and sessions. I'm going there, and not speaking, with my great team from Connecta and we'll do all that we can to suck in as much information as possible.
SharePoint and Projects Conference Adriatics, November 28, Zagreb, Croatia

http://spcadriatics.com
This will be my first time at SPC Adriatics and I was invited by my good friend and SharePoint MVP Toni Frankola to speak here. This conference also has a great line-up of speakers and it's going to be an intense day for everyone to learn the latest about SharePoint 2013. This time around I'll do an upgrade/IT-Pro session.
SharePoint 2013 – The upgrade story
This session will cover what you need to do an upgrade from SharePoint 2010 to SharePoint 2013, You'll learn the upgrade planning, methods and execution through a number of demos. During the session we will do a live upgrade from SharePoint 2010 to SharePoint 2013. We'll also cover the Site Collection upgrade previews and health checks, which allows the site collection owner to determine when they are ready to move on to the new version.
I hope to meet you out there on a conference shortly! Take care.