When I was installing a new Windows SharePoint Services 3 site today I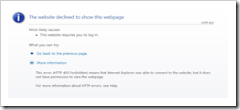 stumpled upon an error I've never seen in SharePoint before. It was when I was trying to add new users in the People and Groups administration. It was not a "normal" error page but instead a  HTTP 403 Forbidden message was thrown when going to the
/_layouts/aclinv.aspx

page. This was on a brand new server instance, with everything patched and up to date.
After some research I came across a thread on MSDN forums where this is discussed. Some suggests renaming the web.config file, refreshing the page, renaming web.config back and the try again as one possible solution, this did not work for me.
The second suggestion was to remove an ASP.NET version 2 hot fix, KB928365, and it helped me! Now I can add users and groups the the WSS site. Remove it using Add or Remove programs, and don't forget to check the Show Updates checkbox.