A few months ago I wrote about the Architecture Journal Reader, a great demonstration app for a "occasionally-connected" Windows Presentation Foundation, WPF, application. I asked for source code and more samples like this, and sometimes dreams come true.
Today Tim Sneath announced the public availability of a News Reader SDK and a Syndicated Client Experiences (SCE) Starter Kit and source code for it. At the same time the team created a MSDN Magazine reader application using the starter kit. The SCE is built upon the Microsoft Sync Framework and .NET 3.0.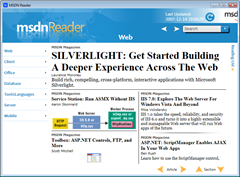 You can now create your own rich user interfaces using WPF and RSS feeds, with support for offline reading.
Read more about the SCE Starter Kit here and get the source code.