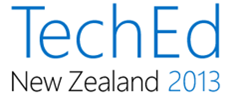 I'm proud to announce that I will be speaking at TechEd in New Zealand the 10-13th of September. This is really cool and my first trip down to Kiwi land. TechEd is a conference for all Microsoft technologies, not only SharePoint, but the lineup of SharePoint speakers and sessions at this conference just looks awesome; Dr. Search aka Neil Hodgkinson, MCA Wayne Ewington, MVP Mark Rhodes, MVP Debbie Ireland amongst others. If you live in the southern hemisphere and are just remotely interested in SharePoint you need to get your ticket ASAP!
I'm presenting a total of three sessions at #TENZ…
Real world SharePoint 2013 architecture decisions
[SE307] SharePoint 2013 is still a new kid on the block in the enterprises and even though large portions of the architecture is similar to SharePoint 2010 there are some tough choices to be made by a SharePoint architect. SharePoint 2013 is requiring more resources, have new and improved topology options – how does those affect our design decisions? The Distributed Cache and the new Search architecture are two important features and how do we factor those into the architecture equation? And what about Apps in the on-premises installations? In this session we will discuss all of these and more and take a look at our options, based on real world implementation experience.
JavaScript in SharePoint and not just for Apps
[SE309] JavaScript is becoming the new de-facto standard for developing solutions on top of SharePoint, thanks to the new App model. But what if you're still running on-premises installations and what if you don't build Apps or and just need to upgrade your current solutions? Well, you can still use a lot of the nice new client-side features. In this session we will take a look at how you use and work with the SharePoint JavaScript API – we're going through everything from the JavaScript CSOM, to REST, to Script-On-Demand, JSLink and other JavaScript features that you will love to use – in Apps or not.
Mastering Office Web Apps Server 2013 operations
[SE313] This session will cover from A-Z how to setup, configure, patch and maintain your Office Web Apps Server 2013 farm. Through an extensive set of demos we're going to set up a new Office Web Apps Farm, configure it for high-availability, going through security considerations and finally connect the Office Web Apps Server to SharePoint and Exchange.
Looking forward to see you all down there…