Due to the large amount of users still using Internet Explorer 6 a campaign has started to save developers from having to making specific adaptations to IE6 - SaveTheDevelopers.org.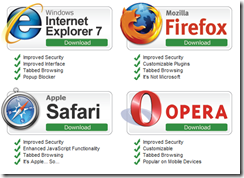 The Save The Developers site contains a script that anyone can place on their web site and it will show a warning to IE6 users and urge them to upgrade to any of the four major browsers; Internet Explorer 7, Mozilla Firefox, Apple Safari or Opera.
Internet Explorer 6 still represents 31%, almost one third, of all browsers according to TechCrunch, while this site has about 15% (which I find quite high…).
Join the cause, add the script to your site, recommend people, friends, parents, customers and colleagues to upgrade.
Via LiveSide.