I've now been home for about 48 hours since visiting Anaheim, California, for this years edition of the Microsoft SharePoint Conference. It has been a great week in California with colleagues, friends, clients and new acquaintances.

This year, eight people from my company, Connecta, travelled over for the conference. We all had a blast with some spare time before and after the conference, which included a visit to Six Flags - Magic Mountain and a drive along the Pacific coast. We also met up with a few old friends and colleagues and had a good time with our clients, who also attended the conference.
Even though nothing new actually was shared during the conference (saving all the fireworks for next year in Las Vegas) it was a really great conference. I focused on the sessions where I knew the speakers would put on a great show, which I think was a clever choice - you can never experience that from the recordings or by downloading the decks. The keynote was pretty dull and just a big marketing show. The only highlights was the big fail-over demo and the MCA announcement. The MCA - Microsoft Certified Architect - is now available for SharePoint 2010 as well, read more on the Masters blog. Congrats to Spence and Kimmo - our two very first MCA's!
I got a lot of questions regarding the MCA program and two essential things were not mentioned in the keynote. First; MCM is a pre-requisite for the MCA and secondly; you need to be MCM on the same version as you're trying for MCA on.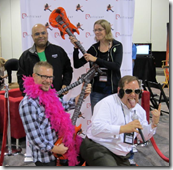 On Wednesday I sat in the Perficient booth for the Meet the Masters panel together with three MCM colleagues. I had a great time talking about my MCM experience and asking questions from the audience. It's great to see the that the recognition of the MCM program is increasing.
SharePoint conferences are more than just attending sessions! Compared to a lot of other technical conferences the SharePoint conferences is very much about the social activities. There are multiple vendor activities and community activities going on 24/7, ranging from SharePints to early morning runs. The Monday night I had four parallel parties going on! These activities are in my opinion one of the most important aspects of the SharePoint conferences. You meet your old friends and make new ones and broaden your network. You'll learn who's an expert in what which makes it more easier for you to get help or reach out when in doubt. Know what you know and know what you don't know - and never confuse those two! 
Now I'm looking forward to next week with a conference in Berlin, then Singapore a couple of weeks later…and of course - Las Vegas next year!