A few days ago I posted a small survey that asks a couple of questions on how you virtualize your SharePoint environments. I will keep the survey open for a couple of more days to get some more results (compared to the number of readers of this blog and number of Twitter followers - the response is really bad…)
Anyways I thought that I should put up some preliminary results.
What virtualization technologies do you use if you virtualize your SharePoint installations
Microsoft Hyper-V and VMWare ESX Server are the most popular virtualization technologies to use. Microsoft Virtual-PC is also very popular, but probably not in production environments :-)
What environments are you virtualizing?
Development is the most popular environment to virtualize, not that unexpected. 51,5% virtualizes their production environment.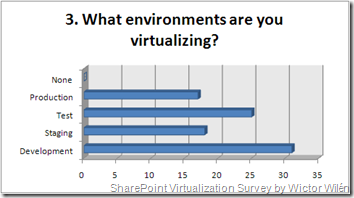 What roles are virtualized?
Almost everyone virtualizes their web front ends and also recommends them for virtualization. The database role is virtualized by 37,5% and 72,5% does not recommend virtualizing the database role. 50% of the responses does not recommend virtualizing the Index role.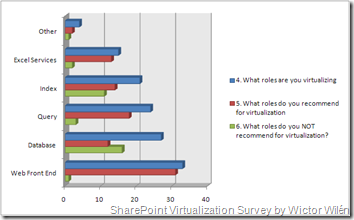 Why virtualizing?
Why are we virtualizing SharePoint? Almost everyone agrees on that the hardware costs are lower, but the license cost is the same or even higher. Very few users agrees on that the performance is better, but instead the scalability and redundancy is improved.
That development is easier with virtualization is no doubt about (we don't even need a survey for this…).
I'm also glad that at least 2/3 of the responses agrees on that this is good for the environment.
This was a short preliminary result of the survey, I will run it for a few more weeks, so please pass the survey forward to your friends and colleagues.