About two months ago I tried to reach out to the SharePoint community with a small survey on how Virtualization is used with SharePoint. The survey was primarily for my own interest to benchmark what others are doing, but I also thought that I should share this with everyone. SharePoint and Virtualization is an interesting piece of discussion; some despise it and some love it. For more information on SharePoint and virtualization read this great article from SharePointMagazine.net.
And now the results
All but one answering this survey said that they were using virtualization in their SharePoint environment. Not that surprising - I guess that if you don't virtualize then you do not even bother to look at the survey.
Virtualization technology
Since this survey did not specify if it was for production, test, staging or development the answers on what virtualization technology that was used was quite spread. Microsoft Hyper-V and VMWare ESX Server was the two products that most survey participants used. Not surprisingly was Microsoft Virtual PC right behind those two.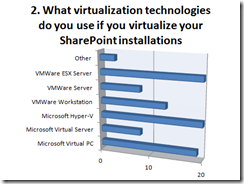 What is virtualized?
Almost everyone (95.7%) is virtualizing their development environment and half (50%) of the survey participants is virtualizing their production environment. This was a bit higher than I expected.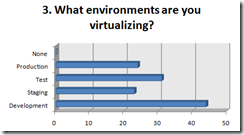 But what is virtualized then? The Web Front End was the clear "winner" with the Query service as a runner up. A quite high number of respondents answered that they were virtualizing the database role (73,9%) but only half of them could really recommend it (37,2%). The Excel Services role was something that about half of the participants virtualized (47,8%) and recommended for virtualiztion (44,2%).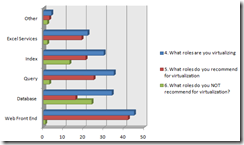 The majority did not recommend virtualizing the database role (80%) nor the Index role (43,3%).
Satisfaction!
Almost everyone was very satisfied (40%) or satisfied (53%) with virtualizing their SharePoint environments and only a few were dissatisfied (7%). 98% of the respondents do recommend virtualizing SharePoint.
Why?
One thing that I really wanted to find out was why SharePoint is virtualized and here are what the survey participants thought:
Agrees
Neutral
Does not agree
Lower hardware cost
82%
14%
5%
Lower license costs
21%
47%
33%
Lower maintenance costs
62%
29%
9%
Better performance
7%
52%
40%
Improves scalability
64%
24%
12%
Improved security
27%
56%
17%
Improved redundancy
60%
36%
5%
Safe backup
55%
31%
14%
Simplifies development
86%
14%
0%
Simplifies deployment
73%
20%
7%
Positive effect on the environment
74%
26%
0%
Simplified development and lower hardware costs was the two ones that was quite expected. When looking at the license costs most people were neutral or thought that the license costs were higher with virtualization, probably due to the fact that you might need more (virtual) servers to have the same performance (only 7% thought performance was better with virtualization).
The numbers speaks for themselves and I do like that 74% also thinks that this has a positive effect on the environment.
Any other comments on this survey, pleas post a comment below.
Have a nice summer