The latest version of the SharePoint Administration Toolkit has been released and it contains a new feature called SPDiag (SharePoint Diagnostics Tool).
It's a new tool for IT-Pros (or admins and developers for that matter) that helps you have a look at all of your SharePoint server (including hardware) configurations in a nice application. You can check everything from log file locations to web.config content to database configurations to…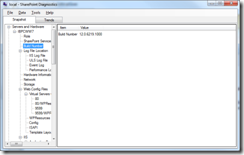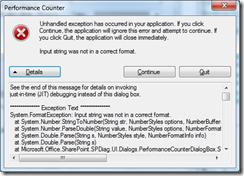 You have two views, one tree view in which you can drill down in your server/farm configuration and read all of the data and one Trends view in which you analyze and examine the usage of your farm and sites using the different logs in SharePoint and Windows. Unfortunately I did not get the graphs to show on my test machine (yes it's a Windows 7 with WSS :-), see error message on the right.
I don't see this as just a IT-Pro tool, I think it will be great for developers when debugging and looking for problems, since you have a great view of the log files.
Anyway, I guess you would like to download it all now…