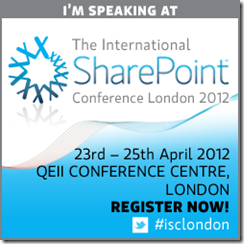 In less than a month the greatest SharePoint conference on this side of the pond will take place in London - the International SharePoint Conference (ISC). The ISC is the new name for the conference held in London and previously called Best Practices Conference and Evolutions Conference. This will actually be my first year at the conference, but I always wanted to go there - and now I'm one of the speakers in the fantastic line up!
This conference will not be just an ordinary conference - instead of having the traditional one hour demo sessions we will over the course of three days go from a functional specification to a deployable solution. The sessions will vary in length from less than one hour to a couple of hours long. There will be two parallel tracks like this - one focused on development topics and one focused on IT-Pro stuff.
I will together with some fantastic SharePoint MVP colleagues and friends participate in a couple of sessions ranging from Visual Studio extensibility, to BCS and Managed Metadata thingies. It will be a blast presenting and I do think that the audience will enjoy this show. So, if you haven't already booked your tickers - now is the time!
Se you there!