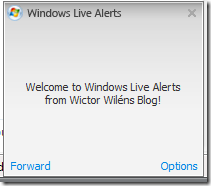 You can now subscribe to this feed using Windows Live Alerts, just click the Windows Live Alerts logo and customize how you will receive the alert.
This is another great Live service from the Microsoft Live team.
You can sign up to create your own alerts here.
Thanks to Michael Ganotti for the tip.