Once upon a time Microsoft decided to give the users of Windows Vista the opportunity to buy an extra expensive version – called Vista Ultimate. Buyers of this version would eventually get some nice and exclusive content and applications to their sweet new operating system. Microsoft did deliver some nice enhancements such as animated backgrounds and new sound schemes – certainly worth the extra cost.
As time went on people waited for the real Ultimate Extra to be delivered…
Let's stop this nonsense and cut the the point…
Yesterday Microsoft released a couple of new extras. Not the big deal yet, but for once something really funny – a new game called Microsoft Tinker. A sweet little game where you should move a robot around a course with as few moves as possible and as fast as possible. It's pretty funny and amusing.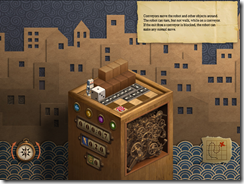 If you have Windows Vista Ultimate, head on over to Windows Update and get it.
Two other Ultimate Extras was also available: a Tinker sound scheme and a new DreamScene Content Pack (#4).
Technorati tags: Windows, Vista, Ultimate Extras