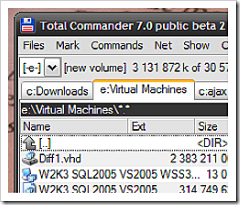 My favorite Windows Explorer replacement Total Commander is in beta for version 7.0.
Total Commander is a great tool for managing files and folders and totally replaces the Windows Explorer for me since it is so much faster in managing files and folders in just one simple window.
Version 7.0 contains mostly a nicer interface but includes some highlights such as:
Show the drive names in the tabs
Alternating background colors on files and folders
Nicer overwrite dialog with thumbnail preview
Run as administrator when privileges are insufficient
I have been a huge fan of the application since I first discovered it years ago (when it was called Windows Commander). When DOS was the primary interface of the PC I used the ASCII based Norton Commander for DOS.