A little more than a year ago I wrote a post after finishing all four SharePoint 2007 exams called "70-640 passed! Do you really call this a certification!". I thouht the exams were to easy and did not say much about your SharePoint skills at all and I had hopes for the new SharePoint 2010 exams. I did hope that they would stop focusing on IntelliSense and API knowledge and more focus on best practices, design decisions and problem solving. Unfortunately I can't say that my hopes became reality.
The SharePoint 2010 exams have been improved (apart from focusing on 2010 instead of 2007). Instead of having four Technical Specialist (TS) exams and focusing on SKU's, there are now two Technical Specialist exams and two Professional exams (MCPD and MCITP). One track for developers and one for IT-professionals, see image below. To achieve the Professional titles you have to succeed on the TS exams first.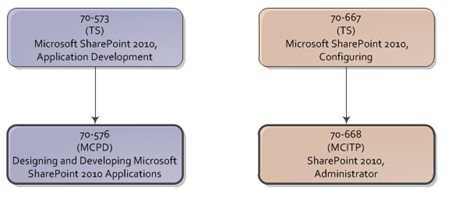 The TS exams (573 & 667) are just as bad as previously, even though the Configuring (667) exam is slightly better. The PRO exams (576 & 668) on the other hand are actually worth (at least) something, especially the Administrator (668) - which I think is the most interesting of them all.
I did all four of these exams during the beta period, in which some questions were really weird and dubious. For the 573 exam (Intellisense exam) I had the great joy of taking it twice - beta and final release, due to that Prometric "lost" my exam and then claiming I did not show up (even though I got a receipt for it).

So why taking these exams you might think? Some people I know refuse to take them just because they are to easy and they say nothing about your skills. But for me there are many reasons for this. First of all I am a consultant. Many clients I meet have no idea about SharePoint and its technology - having a few certifications to show opens the door faster and they believe in the validity of the certifications. Secondly I am a Microsoft Certified Trainer (MCT) - some classes requires that you have the certifications and most students take the classes to later take the exams - then I think it's good to know what the exams contains. There are more reasons for taking them such as your company will get Microsoft Partner points, some companies also pay a bonus for achieving new titles, you need them to even apply for the Certified Masters program etc etc, the list can go on. I think that you should at least try them - you might even learn something!
To sum it up - if you're into the SharePoint business - there is no harm in taking these exams. You could do it the easy and fast way as Bjørn Furuknap shows or you can do it because you want to learn more about the amazing product SharePoint. The first SharePoint exams that I took really gave me time (forced me) to study on all areas of SharePoint (workflow is still my weakness, got to read Phil Wicklunds book about it soon).
So this is my 2 cents (or ören as we say in Sweden) of these exams - and here I am with nine different SharePoint exams (TS in SharePoint 2003, 4x TS in SharePoint 2007 and 2x TS plus 2x PRO in SharePoint 2010). And I like it!