Microsoft has released a new Windows Presentation Foundation demo sample that is a reader application for The Architecture Journal. The Architecture Journal is a quarterly online magazine focused on IT-architecture and contains nice articles and gives you some good reading. It is available online and as PDF (why not XPS?).
The Architecture Journal Reader is a WPF sample, very much like the New York Times Reader that was one of the first killer-apps for WPF, that you can use for offline reading of The Architecture Journal.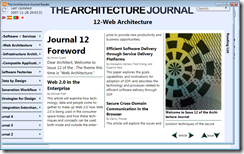 I really like this kind of applications. It has a rich, but simple user interface, with the look and feel of a paper magazine. You have a front page of each issue with small abstracts of the articles, all adjusting to the size of your window. You can easily click on an article and continue reading it.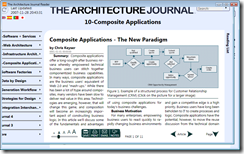 The article also looks like a "real" magazine, instead of writing the text from left to right filling out the whole page it's divided into columns with a nice image layout, which gives you a good reading experience on the screen. You can adjust the text size easily and write your own annotations, either using text or ink. If you don't have time to read the article you can send it to your Reading List for later reading.

The application is based on RSS feeds with an extension namespace and the articles in News Industry Text Format (NITF).
Download it here and try it out for yourself. I hope the source code will be released.
I love to see more of these applications and I think this is what the future will look like for news papers and magazines.