A few months ago I saw a video from Microsoft Live Labs in which they presented something called Photosynth; an advanced image collection viewer that combined the images into a 3D view in which you could zoom in and out and walk around it. I really loved the application I saw as a demo.
Today the team behind Photosynth announced a Technology Preview of the application as an ActiveX control which works really nice!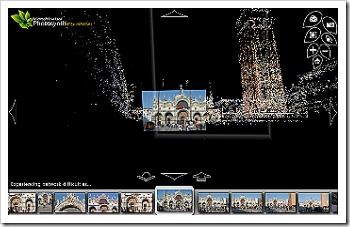 You can sweep around in an environment and zoom into specific targets. I really like the smooth way a photo gets rendered and and more detailed when you zoom into it.
Imagine the future; Photosynth is integrated in your Vista Media Center application and you take all the photos of your house, summer house or similar and bring them up and and walk around it! I guess that this is a bit far, first off will be some kind of integration with Live Local Search and Virtual Earth where everyone can add their photos of a specific locations or targets.
Do we ever have to travel anywhere soon? Just put up the heat in your dark apartment, buy some solarium light bulbs, buy some pina colada mix to get into mood and you will soon be walking around in Colloseum in Rome sitting in your old worn out underwear…