I recently received my new HTC Touch Pro smartphone, which is by far the best phone I ever owned so far – it has all that I need to complete my daily tasks. Over the years I had a few phones, of course the latest one has nearly almost been the best for me at that time. I decided to take a look down the memory lane and see what phones I have owned and used for daily usage. There are some in between that I used for shorter periods, but these are the major milestones in my mobile-life.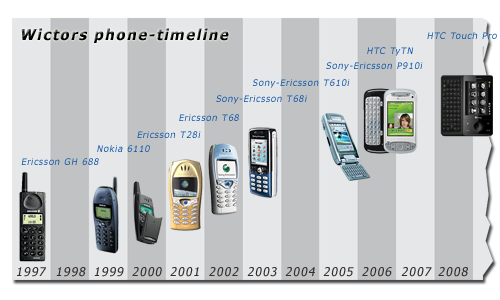 The first mobile phone that I owned was the Ericsson GH 688. This was during my time at the university, so since I had no job/income at the time my dad had to sign the subscription. I bought the phone after a summer at the Ericsson assembly line in Linköping – where I worked the five-shift during the summer assembling just the GH688. I have some nice memories of this – especially when another summer worker thought the oven, which soldered the parts on the circuit board, had to low temperature so he turned it up a few notches and burned a few hundred phones.
The second phone, and my only Nokia phone was the Nokia 6110. Nokia has never been a favorite of mine, but this one had Snake. After starting iBizkit in 2000 I went back to the Ericsson phones and a Ericsson T28. This is still one of my favorites due to the small size and the incredible battery life. It had some flaws though and crashed (just like Ericsson phones use to).
Then came the phones with color screens so I had the Ericsson T68 and then upgraded to the almost same phone which was the first Sony-Ericsson branded phone, Sony-Ericsson T68i. Now I could send MMS messages, but there was no camera yet. So I upgraded to yet another SE phone, Sony-Ericsson T610i. This was a really good phone and state of the art at that time.
After parental leave, with Wilma, I returned to work and got me a brand new Sony-Ericsson P910i. Finally a phone that I could use to write and install my own programs to and that I could use to read and write documents with. I was really fast at typing at that small keyboard. I then decided not to go with the following P-series models, but instead choose the HTC TyTN; a better keyboard, Exchange integration and Windows Mobile. For some of you the Windows Mobile operating system is a minus, but not for me – I love it. It gives me opportunities to configure and extend using the same methods that I do every day at work.
In the beginning of the summer the TyTN was worn out, and I used the old P910 (it still worked after a few years with my daughters playing with it) during the summer while waiting for my HTC Touch Pro to arrive. I now I have had it for a few weeks and I think there is currently no competition for this phone.
I wonder what I will use next time?
Technorati tags: HTC, Nokia, Ericsson, Sony-Ericsson, Mobile phone, Phone, TyTN, Touch Pro