Currently setting up a new environment on SharePoint 2010 (which was made available for download yesterday if anyone missed that :-). One of the new features of SharePoint 2010 is to set up a Content Type Hub (which is a part of the Metadata Service Application), which is a hub for all Content Types that other Site Collections can subscribe to. That is you only need to manage your content types in one location.
Setting up the Content Type Hub is not that difficult but you must make it very careful to avoid a lot of work and troubleshooting. Here is a short tutorial with a few tips and tricks to make it easy for you to get started.
Determine location of Content Type Hub
First of all you need to decide in which Site Collection to place your Content Type Hub; in the root site collection or a specific one. I think using a specific Site Collection that only acts as a Content Type Hub is the best way, there are no best practice as of now. So I create a new Site Collection, at for instance http://server/sites/CTH/. The top-level site of this site collection should be for instance a Team Site. You cannot use Blank Site by default, which would have been the best option IMHO, since that site does not have the Taxonomy feature stapled upon it (check the TaxonomyFeatureStapler feature for which site templates that can be used).
Configure Managed Metadata Service Application
Next you need to create your Managed Metadata Service Application or configure the existing one, Central Administration > Application Management > Manage Service Applications. Select the Managed Metadata service application and click Properties if you already have created it.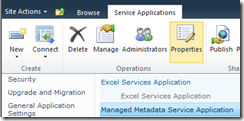 In the bottom of the dialog window when you are creating the service application or when you are editing the properties is a section to fill in the Content Type Hub. In this text box fill in the URL of the Content Type Hub. It is essential that you have decided where your Content Type Hub will reside, since once this is set you cannot change it. The only way to change it is to rebuild the whole managed metadata service application! Also make sure that you enter the URL correctly. I did copy and paste the URL once and got the /default.aspx in the URL which funked the whole service up. Make sure that you only use the URL to the Site Collection of the hub.

Now you have to set up so that other Site Collections can consume the content types from the hub. This is done by selecting the connection for the managed metadata service application and clicking properties.
A new dialog window opens and there you need to click the Consumes content types from the Content Type Gallery at nnnn.

Now you are free to syndicate your Content Types from the Hub.
Publish Content Types
To publish a Content Type from the hub you need to go to Site Settings > Content Types and select the content type that you would like to publish. Then select Manage publishing for this content type. This takes you to a page from where you can Publish, Unpublish or Republish the content type.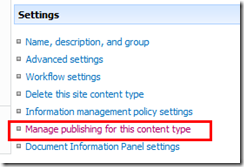 Once the content type is published it can take up to an hour for the subscribing Site Collections to get it. This is controlled by the Content Type Subscriber job that is scheduled to run once an hour. To speed up your publishing just go to Central Administration > Monitoring > Review Job Definitions > Content Type Subscriber and click Run now and you content type is very soon available for use.
Published Content Type status
You can check the status of the content type publishing in your destination site collections by selecting Site Settings > Content Type Publishing. From here you can force a refresh of all subscribed content types, see which ones that are subscribed and finally check the publishing error log. This error log is very useful for detecting errors during the publishing. For instance if you use any features such as ratings, metadata, document ids in your content type hub and your destination site collection does not have those features available this will be reported here.
Have a nice weekend…I know what I will be doing…