In less than a week Sweden's largest Microsoft conference will take place in Örebro - TechDays 2011, same place as last year. The conference is already fully booked with 1.700 participants, but there's a waiting list! The theme of the conference is "The Cloud Story".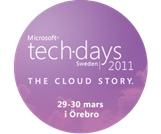 This year I will do two sessions, or rather one long sessions split into two parts on Office 365 + Windows Azure. This will be over two hours full of great demoes and information. I've built one big demo that will combine the powers of Office 365 (SharePoint Online, Exchange Online, Lync Online) and Windows Azure (web and worker roles, SQL Azure, AppFabric). We'll also touch on technologies such as Silverlight, WPF, Open XML and WIF. So if you think this is interesting, if you're considering moving your stuff into the cloud or just want to have fun - then these are the sessions to attend.
My sessions will require some interactivity from you - so if your coming bring your cell phone or laptop ready to browse the web. Participation will be rewarded!
After each session I will hang out next to the session room to answer all your questions on these topics or any other things you have on your mind. You can also meet me in the Cloud Emergency Area (aka Ask the experts) or at the Connecta stand.
See you there!