When using BitLocker or encrypting your file system with EFS on Windows Vista, you will be using certificates and/or passwords. If these certificates or passwords are lost the chance that you loose the information and data on the disks that are protected is very likely. The certificates can of course be backed up on removable media or similar. But storing these kind of crucial information bits on a remote location is of course the best way and you should do that. You can store it in any kind of web-storage such as SkyDrive, but the best way is to use a service called the Digital Locker by Microsoft.
The Digital Locker is a remote and safe way to store software product keys and certificates and it is integrated into the Windows Marketplace so your purchase history is automatically appended to your Digital Locker.
The Locker
The Digital Locker is accessible from the Internet at https://digitallocker.windowsmarketplace.com/ and you sign in using your Windows Live ID. From there you can access your software. You may enter notes on each product, view license information and download the product.
You also have the possibility to archive your software for later use.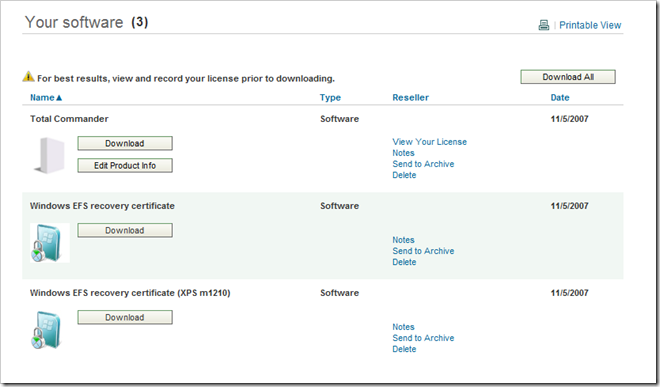 Windows Vista integration

Windows Vista comes with a Digital Locker integration for storing your BitLocker recovery password and/or your EFS recovery certificate. You can easily backup this information by using the Control Panel and then select what you would like to backup. You may keep all of your certificates, from all your Vista machines, at the same location.

Windows Vista also contains direct access to the Digital Locker via the Digital Locker Assistant, found in the Control Panel.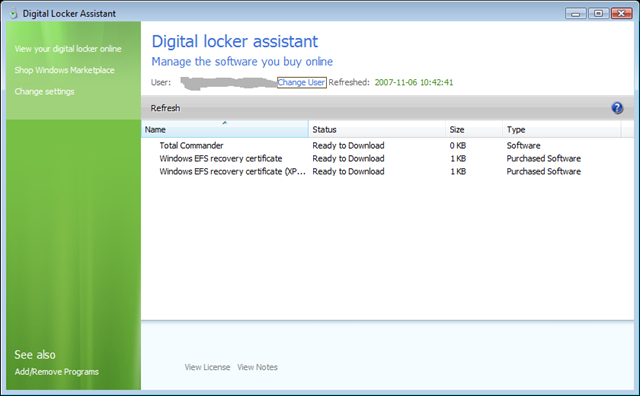 According to the documentation it should be possible to back the Digital Locker up to a CD/DVD, but I have not found where to do that yet.
Windows Marketplace
The Digital Locker is a part of the Windows Marketplace so whenever you add something to your cart in Windows Marketplace it is added to your Digital Locker. For example if you buy a product you can easily later on reinstall it by downloading it once again and using the product key stored in the Digital Locker.
Adding your own software
With the Digital Locker you can backup your own software securely. You can with a few steps add all your software, purchased from anywhere, to the Digital Locker together with an optional product key and download location. I previously stored all this information in a document stored on my hard disk, but now I try to keep all this information in the Digital Locker.
Windows XP
If you use Windows XP, you can download and install the Digital Locker assistant to get direct access from you desktop to the Digital Locker.