The Windows Live Writer has once again been updated, it's still a Technical Preview. The new and updated version contains numerous improvements to the interface and introduces a brand new plugin model.
New and improved features

The interface has received some updates such as a tabs for switching between views and a nice feature which allows you to edit your post using your blog theme (might have been in previous builds, but this was the first time I've seen it).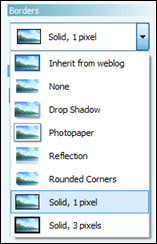 There are now more ways to edit the images/pictures that you copy and paste or insert into WLW; such as cropping, tilting and more border styles. So no more need for using external programs to get your post look nice, except for a screen clipping app (I use OneNote). There are also new support for inserting and embedding videos from various sources.
While editing you now have support for automatic linking. The Glossary has now turned into a Auto Linking feature. Other nice features are typographic characters, which for example converts (c) to a ©, word counting, "curly quotes" support and support for split posts.
My favorite so far is the tidy and nicely formatted XHTML code generated by Live Writer. Now it's easier than ever to customize your blog post using your own code.
Changes to the Publishing API
The Windows Live Writer team has also been updating the metaWeblog API, once again, so that the metaWeblog.newPost  now follows the specification and uses the dateCreated field instead of a pubDate field.
SDK Changes
Windows Live Writer contains a great extensibility model, using the WLW SDK, which previously has been quite limited. With the new build you can hook into the pre- and post-publish events and you can automatically add headers and footers to your posts.
Happy blogging!
Technorati tags: Windows Live Writer