Microsoft SharePoint is a great Enterprise Portal framework and contains a lot of collaboration and management features out of the box. SharePoint also has the abilities to find users and their knowledge using a social distance algorithm, but it has lacked some of the social features that applications such as Facebook successfully has implemented and been recognized for. Microsoft even owns a smaller part of the Facebook company.
The enterprise equivalent of Web 2.0 – Enterprise 2.0 is steadily increasing and to make it work for the knowledge worker of today you have to include the social features. There are now numerous third party applications you can use to leverage your SharePoint installation to an Enterprise 2.0 portal, I previously blogged about some of them.
Microsoft is currently sponsoring the Enterprise 2.0 Conference in Boston and in their Virtual Pressroom for this conference there are one interesting screenshot together with some SharePoint images.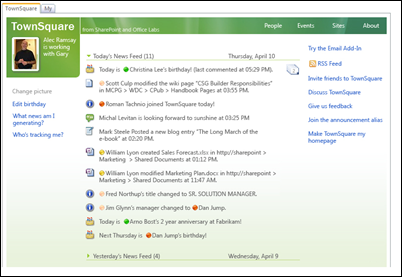 The screenshot is from something called Townsquare:
…a prototype enterprise news feed developed by Microsoft Office Labs, allows users to receive news about managers, friends and colleagues all in one place
This really looks interesting! Facebook-like social features in a SharePoint-like environment – this can really be something!?
Do you know anything more about this? If I find out some news I'll post it here.
Update: According to this InfoWorld article Chris Pratley from Office Labs will reveal more about Townsquare on Thursday.
Technorati tags: SharePoint, Facebook, Enterprise 2.0, Social Network