The time has come for me to do my summary post of 2010. This is my fifth summary post (2006, 2007, 2008 and 2009). This year has been truly amazing. Working in the SharePoint world has been so interesting and challenging with the brand new Office 2010 and SharePoint 2010 products.
I have been knee-deep in SharePoint 2010 work both for my employer (Connecta) and for personal reasons (pure fun, book, learning…). A huge thanks to my wife and daughters that can put up with my constant chatter about this obscure thingie…
As previous years let's sum up my year in a few sections.
Blogging, books and other writings
My blogging activities has been going up and down this year, but I think this year I have produced quite a few gems. I've seen the number of visitors steadily grow this year with about 700.000+ hits per month nowadays. The most popular posts of this year are the following ones: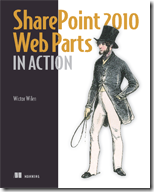 Part from blogging I've been writing on my book; SharePoint 2010 Web Parts in Action. It was not released this year as planned but watch out for an early release in 2011. I'm not going to write more about it now - that deserves its own post.
Except for writing on my own blog and the book I also produced a series about Visio 2010 and SharePoint 2010 for EndUserSharePoint.com, nowadays NothingButSharePoint.com - check it out. I still have a couple of posts to complete, so keep an eye out for them. I also wrote an article for the 2nd edition of the DIWUG SharePoint eMagazine about the new SharePoint 2010 themes - download it here.
SharePoint MVP

A personal and professional highlight of this year was of course when I was awarded with the prestigious SharePoint Server MVP award. April the 1st this year I got an e-mail that made me choke and burst out in joy. Hopefully I can keep this award for quite some time. Being a Microsoft MVP has really given me some great opportunities to meet new people and talk SharePoint with a bunch of extremely talented people - I really look forward to the MVP summit in a few months.
Speaking engagements
One thing I enjoy is to talk about things I like - SharePoint for instance. This year I continued to deliver quite a few sessions on several occasions:
Looking forward to next year, hopefully I get invited to some more international conferences…
Last year predictions
Last years summary post contained a few predictions for 2010 - and all of them fell in. "Microsoft will have something extraordinary coming in Windows Mobile 7" - Windows Phone 7 was released! "Another thing we will see starting emerge from Redmond is a new Internet Explorer…I expect some major improvements in standards compatibility…" - Internet Explorer 9 was released as beta!
Predictions for 2011
So what about 2011? What's in my crystal ball for next year? The wave 14 of Office/SharePoint has just begun, I don't expect any new major announcements about the next wave, except for the Office 365 stuff going live. The release of IE9 and Silverlight 5 are no-brainers. This is what I think about next  year:
Microsoft will enter the pad/slate/tablet/huge-cellphone market with a special edition of Windows Phone 7. Yup, I don't think "Windows 8" will be the OS for the Win-pads.
Windows 8 will be communicated. Windows 8 will be like Windows 7 R2.
Virtual PC will be reborn as a client alternative to Hyper-V with x64 support etc.
Thank you and a happy new year
That's it for me! Thank you everyone who subscribed to my blog or Twitter feed or visited/listened to me at conferences. Next year will be awesome. I've already made some really interesting plans for next year that I'm anxious to talk about at a later time. Let's finish with a picture that I took today when I was out skating at our lake. Happy new year everyone!!