I am really keen on gadgets and devices and have for some time had troubles with my current wireless routers so today I acquired a brand new Belkin N1 Vision wireless router. The reason for choosing this one was many but one of the most important ones was the WAF, Wife Acceptance Factor. Since it is placed central in our home the router must be good looking and that is exactly was Belkin N1 Vision is.
I thought I should share the unboxing of this sweet device. The N1 Vision is not just a high-end wireless router it comes in a nice package and has the most compelling design of a wireless router I've ever seen.
Wrapped and sealed in a nice package and when you open it you feel and see that Belkin has put a lot of effort into making this a high-end product.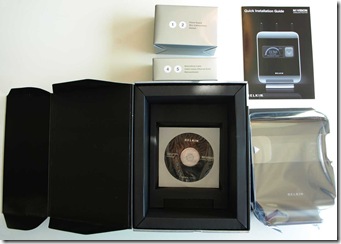 Everything is nicely packaged. The Ethernet cable and AC adapter comes in small boxes, with numbers corresponding to the setup steps, more about that later.
The router itself has the standard plastic foil for protection and when you peel it off you can see how shiny it is (the wife can nearly use it as a mirror, WAF++…). The back of the router is simple, and you can see the numbers here relating to the setup.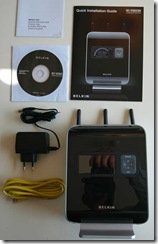 The box contains the router, an Ethernet cable (for setup), an AC adapter, a thin setup manual, a warranty and a CD-ROM with the manuals.
The setup of the router is really easy, and the instructions are made for non-technical installers. Everything is numbered and color coded, I could trust my wife with installing this one (WAF++). When everything is plugged in you just direct your browser to http://routersetup/. First time I've seen this, you normally enter an IP-address to configure the router. The setup is done through a wizard (you can do it manually also, which I of course did in the end) and the display of the N1 follows the setup. I was up and running within no time. Everything is done through the web interface - you can even configure it to update itself (not seen that either on a router before).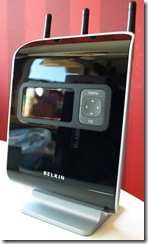 If you have a router at home you sure would like it look like this.
Just take a look at the N1 and compare it to the last three ones I have used - no competition!
The display of the N1 Vision is the most notable feature and it's fun to have. Yes, mostly fun, I guess I won't be running down to the router all the time checking how much I have downloaded etc. I will use it as a clock in the hallway! I guess the display will come handy when something messes up.
Through the display and the buttons on the router you can do some basic settings such as enable Guest mode and
The technical specifications are impressive and this piece of electronics will for sure stay for a long time in our home. It even has lifetime warranty. So if you are ready spend three or four times more bucks on a router that looks this nice you should head over to the nearest electronics store…