The year of 2007 is about to come to an end, and it has been a really exciting year.
First of all I've had a great year with my family; my daughters turned four and one years old during 2007 and it's so wonderful having them around giving me energy. My wife has been home with them the whole year and next year I will take a few months of parental leave and give them my full attention.
During 2007 we sold our company, iBizkit, which we started in 2000 to a larger company, Pdb DataSystem. This is something we wanted to do for some time. iBizkit forms a new team focusing on portals and SharePoint within Pdb which I think will be great. I can now focus more on doing stuff that I'm good on rather than spending time on administration. After just a few months we have seen a great increase in business opportunities and I hope I can share some of them during next year.
I have been spending a lot of time this year with the new Microsoft Office System 2007 releases; SharePoint Server,  Office desktop applications and the standardization of Office Open XML. During the last few months this market has exploded here in Sweden, I'm not sure if we are late or early up here? I have heard through Microsoft channels that the product sales of the Office desktop applications have experienced increased sales numbers during the same period. I look forward to continuing with this during 2008.
The heavily discussed OOXML standardization has of course affected me and I look forward to see what will happen during the BRM in the beginning of 2008. I really hope it will get an approval, which will hopefully result in that ECMA International will submit the XPS (XML Paper Specification), which I think is one really interesting standard.
Summing up 2007 and not mentioning Windows Vista, would feel very odd for me, so here it comes. I had great expectations for Windows Vista during the beta phase and when it was released. Beta testing is nothing compared to working with it eight hours a day. I currently uses Vista as my primary OS for my business laptop and as a Media Center at home. As a Media Center machine, and occasionally playing some games on, is great - except for the d**n lack of graphic driver support from Nvidia. As a primary workstation, I would like to say that it really sucks, if you are doing anything else but using Office 2007! I have been struggling with it for a year now, far to long I think. My rescue has been Virtual PC with a couple of different machines. But I'm positive and have big hopes for Vista Service Pack 1.
And I'm still wondering what will happen to the Ultimate Extras - will it ever be worth the money!
Blogging has been fun, I have not had the time I wished for it but I think I have had some interesting post during the last year. Here are the top five posts of 2007 (written during 2007):
All time favorite post is Watch DVDs in VIDEO_TS folders on Vista Media Center - wonder why :-)
2008
I'm really looking forward to 2008 and this is my whish list for the next year:
A working version of Windows Vista with Service Pack 1
That OOXML gets approval from the national bodies
That XPS is submitted to ISO
Getting at least a few of our customers to upgrade to Windows Server 2008 and SQL Server 2008
Having a nice parental leave
Getting some time over so I can finish msfeedicon version 3
Testing out the new Media Center for Vista, codename Fiji
Internet Explorer 8
What are your whishes for 2008?
The list can grow longer, but these are the ones currently on my mind. I will keep blogging about them and other stuff that I find interesting for the moment.
I hope that this blog will continue to grow in number of subscribers, and I would be glad if you give me some feedback on my posts and recommend it to friends and colleagues.
A Happy New Year to all of you!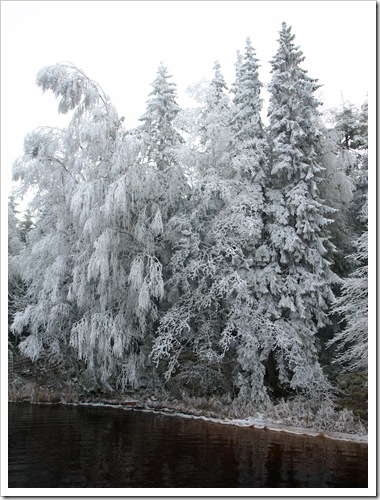 This shot was taken the day before Christmas eve at our weekend cottage. It was a great scenery with one centimeters of hoarfrost.